Direction and choreography: Masha Gurina
Original music: Steve Homes
Film-making: Remigiusz Sowa (Chouette Films)
Performed by:  Elsa Arcaute, Carolina Esteves, Hannah Cameron (dancers)
Steve Homes (guitar), Demi Garcia Sabat (percussions) and Javier Macias/Ulises Diaz (singers)
Graphic design: Sasha Vidakovic
Photo credits: Sebastian Zgorzali, Laura Trivino
With thanks to: Yoko Isaji, Mari Frogner
"What a stunning show! A vibrant, moving and sophisticated blend of flamenco and contemporary exquisitely choreographed and performed. Another bonus were the top class live musicians. Grown men came out in tears and this is about Women at War! I could not have been more impressed, please take it to another venue so that other people can experience such great artistry". (Cecilia Darker, Rosemary Branch Theatre, London 2016).
This is my most full-scale work to date, which was finished in 2015 thanks to the grant from the Arts Council England. 'In Memoriam' is dedicated to women of the First Wolrd War – women who become the 'army behind the army', women the bomb-makers, women the fighters, women who 'stay behind', women addressed in thousands of letters and poems. It is also contemplation on war's parallel realities, as history and events repeat themselves across both space and time. Inspired by war-time imagery and poetry of The Great War and performed by an exceptionally skilled group of dancers and musicians bringing together an explosive mix of flamenco and contemporary dance.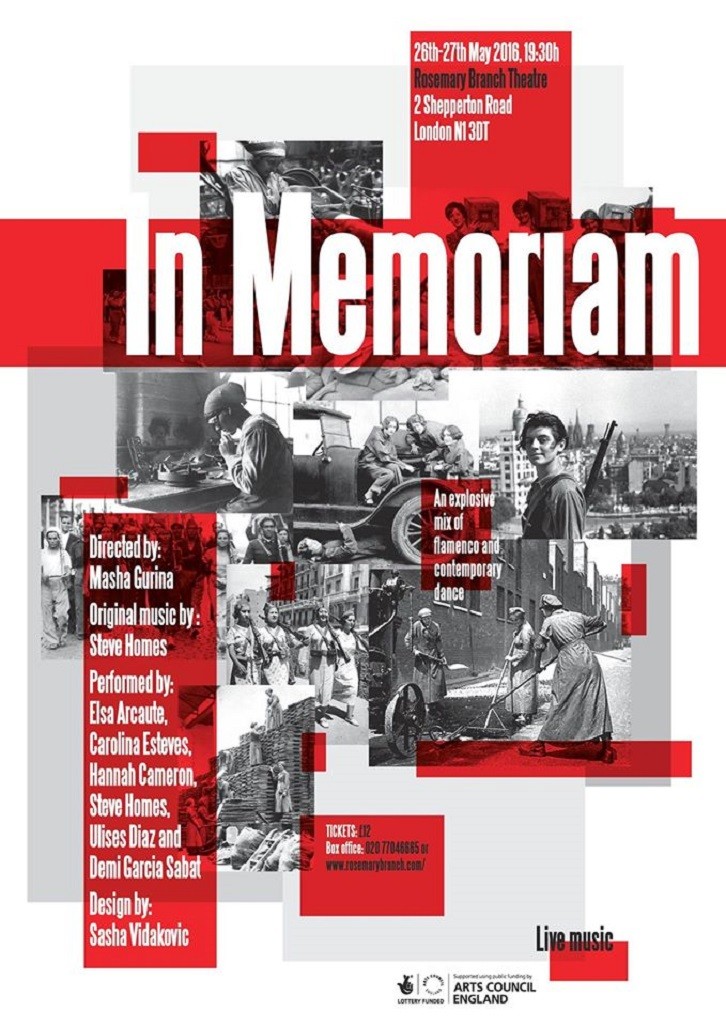 Special thanks to our crowdfunding supporter whose generocity made it possible for us to perform this work again:  
David Williams, Sue Clark, Catherine Rees, Alison Shoop, Valentina Enis, Ramona Liberoff, Angela Neustatter, Mimi Goddard, Anatoliy Gurin, Olly Hoeben, Vladimir Golovanov, Philippe Brown, Tina Baxter, Lilija Moroza, Oleg Lavrentiev, Igor Grinko, Thomas Lindner, Julia Shapa and Anna Ovdienko.